The Blue Haven, Inc. is a 501(c)(3) charitable organization and donations are tax deductible.
In order to provide essential services The Blue Haven relies on both public and private funding. Whether giving of your time or financially, The Blue Haven welcomes your support.
When you invest in The Blue Haven with a financial gift, event sponsorship, or in-kind donation, you can be confident your contribution will make a difference to a family or individual in our community.
To contribute by check, please make your check payable to The Blue Haven, Inc. and mail to P.O. Box 480536, Charlotte, NC 28269. All non-cash items you wish to donate please contact Starlia Walker-Miller at swmiller@thebluehaven.org to schedule a drop off or pick-up. If you would like to become a volunteer please send all inquiries to volunteer@thebluehaven.org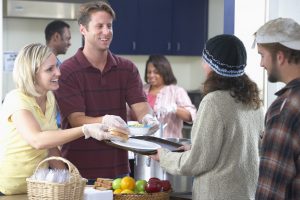 "You don't make progress by standing on the sidelines, whimpering and complaining. You make progress by implementing ideas." – Shirley Chisholm